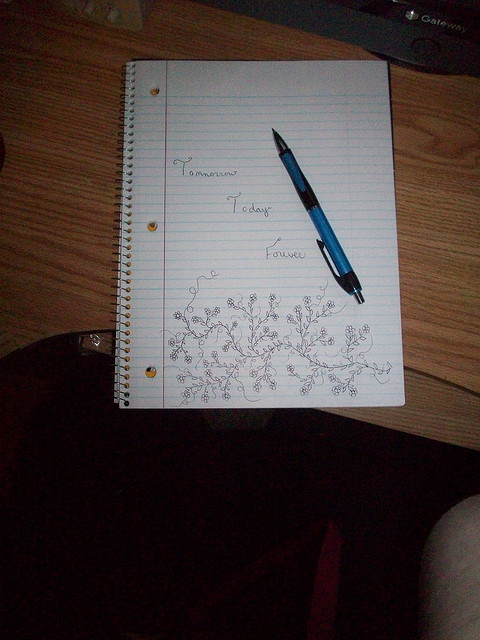 I'm writing a novel.  It's a lovely, thrilling and really f**king scary experience.  Why is it scary?  Oh, well because I am totally afraid that it will SUCK.  Huge.
I have been writing on a regular basis for two years.  I've been blogging, writing poetry and working on a memoir in that time.  And then, all of a sudden my friend Meredith mentions this insane thing called National Novel Writing Month.  It's where writers take the month of November to compose a 50,000 word novel in 30 days.  Nuts right?!
But somehow, by the end of October I was full to overflowing with a story.  I was inspired.
I finished NaNoWriMo.  I am even now in the midst of editing the first draft of my novel with the help of my wonderful editor Amanda.  How did this happen?  I made no plans for this!  I don't even write fiction!
And then it hit me.  This is why I'm afraid.  Writing fiction, writing a novel for goodness sake, was not a part of my plan.  And yet, here it is unfolding anyway.  I wake up each morning thinking about this book (and even my next one) as if it were a new lover.  I am lovingly excited and yet strangely unattached to a specific outcome.
Of course I want it to be successful, but I haven't even set guidelines in my head about what that looks like…not really.  I'm willing to look for an agent and I'm willing to self-publish.  Maybe I should narrow that down, and I will.  All in good time, I will.  There's something else at work here…
It's not as if this novel is going to change the world.  It's not about that.  It's about the fact that I have let go enough to allow something unexpected flow through me.  I have surrendered just a little.  This doesn't stop me from being completely freaked out that the book is no good, but it helps.
It helps me to see that I need not be in control of my life.  I can let go and witness.  I've been talking about surrender for a long time, and these past few months have really made me put my money where my mouth is.  I want to scream "Enough already!".  But I don't.  I feel the love.
Today I will be unafraid.  There will be some who like this novel, and some who won't.  All I know is I had to write it and I did and today, that is enough.