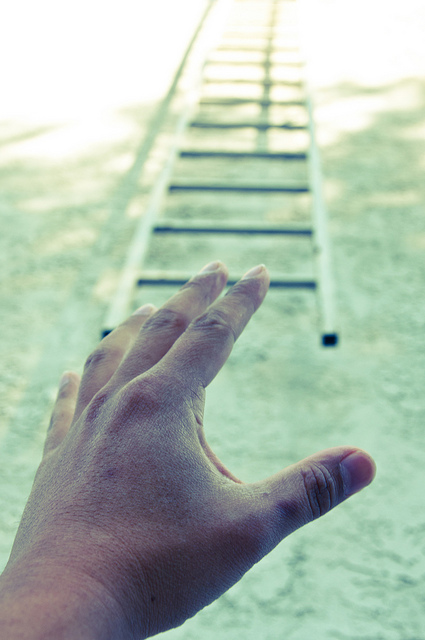 God bless us all, for we are all teachers.  We are each aspects of a Divine mind that loves beyond all our current understanding.  We, each of us, have a voice, a song, a tapestry.
And I have made a decision.
I don't need your credentials, impressive though they may be.  Give me your kick-ass content.  Show me your light and your dark.  Share with me your penchant for compassion.  In short, be who you are and not who you think you need to be.
One of the most humbling things I have ever learned is that I am meant to be taught by everyone.  A PhD, a best-selling book, a sold-out seminar mean nothing if I am not doing my part.  If I am not willing to learn, it is all a waste.
So I must wander the world thirsty, reach for any ladder.  I must be inclined to learn from anyone who crosses my path.  I must be willing to see what my inner guide wills me to see: oneness, calls for love, offerings of love, unity.  No matter the gender, no matter the age, no matter the size, I can learn from anyone if I choose to.
Without comparing, without jealousy, envy or resentment I feel that pull to listen and I do not listen alone.  I bring it all to my inner guide asking "What is this for?".  I ask, because I do not know.  I ask because I am willing to learn.
Because though everyone can teach me, there is the one who gets the final say and see.  The loving voice within gives me clarity, bringing me out of the shadows of separation and into the light of Love.
There is no lack, only abundance.  There is no error, only perfection.  There is no sin, only love.
I will see it and I will know it.
And I thank my teachers one and all for they are, of course, all One.