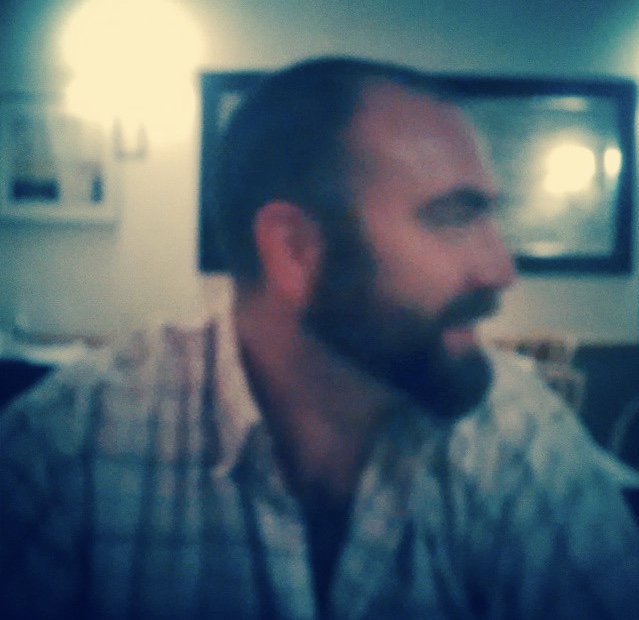 I've always loved this picture of you. It's blurry, I know, but it reminds me of that day. July 13th, 2015: One of my best birthdays ever. One of our best nights together. I like to think this picture is blurry to remind us of how hot it was. Do you remember? The restaurant's air conditioning was broken except for one small window unit. And that's where they sat us. I snapped this photo as you turned to survey the room.
"We're the only ones here," you said laughing.
"Just the way we like it," I replied.
The waitress kept apologizing, as if it were her fault. She was sweating and we felt bad, reassured her we were going to take our time and were happy with everything.
And it was so damn hot- even the wine was warm, but we didn't care. It was a night alone. It was a night out. We held hands across the table and conjured up all that had brought and kept us together over the years. And as we smiled those lovestruck smiles, "Georgia" by Vance Joy came on the radio and we talked about all the layered reasons why that name is so special to you.
We walked home slightly buzzed off the wine. You played music on your phone as we went. You made me laugh; I held you close. And as we turned the corner to our street, you grabbed me and we danced right there to "Have a Little Faith in Me". This journey with you has been filled with little moments like this, but this night was full of them. It was a night of relief after so much tension.
On this Valentine's Day, I want to thank you for always reminding me I am loved, for encouraging me to take better care of myself, for showing me it's ok to be selfish sometimes. The world's idea of love is so fucked up. It's FUBAR as you'd say. No one can ever get it right.
But I know my own heart and you live there. And the space you take comforts me.
This love is the one we need. Thank you for showing up, not giving up, and always smelling so damn good.
And thank you for wine-buzzed dances in the street on hot summer nights…just the way we like it.
<3