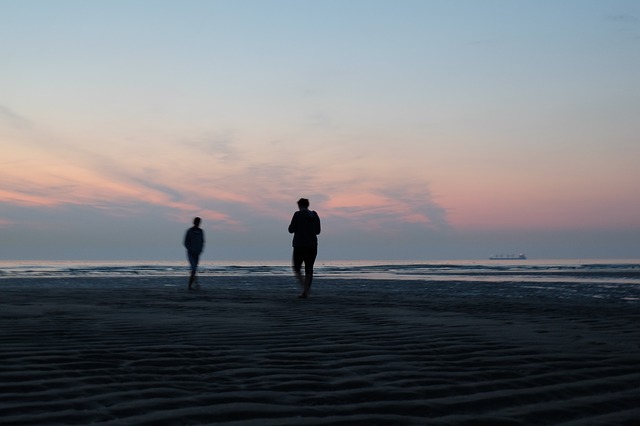 Just a little over three years ago, I wrote out a prayer- a request. I asked for a simple man. I wrote it as a poem and thought to myself, 'Maybe in a year or two, I'll be ready for him. I'll be ready to move on and settle into a simpler life than the one I just left behind."
A few weeks later, after one of my closest friends nudged me, I signed up for an online dating service. She told me to use it as practice, knowing that I had never dated as an adult. I agreed, reluctantly, but made it clear in my profile that I was only looking for friendship and hopefully to connect with someone who was in a similar state (recently separated, single parent).
I uploaded my profile and within ninety seconds, I received a message. And I instantly knew I had come across one of the kindest souls I would ever encounter.
He didn't push and didn't pressure. He was easy to confide in. He understood. He gave me space, checked in regularly and was open about his own past.
I wasn't really ready to meet him. Or at least, I knew that meeting would be messy. We were both still so raw in our grief. It was something we admitted to one another from the start.
There would be plenty of chemistry, plenty of heat, but the ups and downs of commitment and kids and exes and jobs…. We had to decide, at some point, to have the relationship be the anchor, the calm in the storm that would go on around us. This came years after we met.
He is the simple man I prayed for. I learned shortly after we met that his mother dedicated this song, "Simple Man", to him. She wanted him to know that it was OK to be who he was and that he could be loved for it.
Three years ago today I met this man. This man who loves me, who challenges me, frustrates me, lights me up, supports me, makes me laugh until it hurts, sends me loving texts, fixes things, makes things easier, stands beside me, argues with me, dries my tears, cooks for me, cleans our home, plays with my son, listens to my daughter and who loves his own daughter with a commitment and ferocity that moves me everyday.
After three breakups, three kids and three incredible years, we are here. And I am blessed.
<3