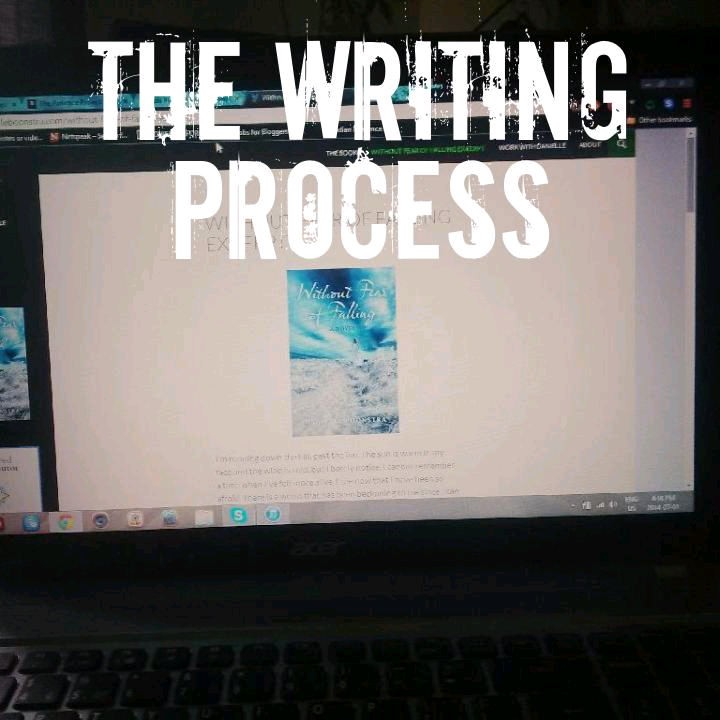 Recently, I was asked by Dr. Kelly Pryde to participate in the IC Publishing Summer Blog Tour to share my insight into the Writing Process. I get asked about this a lot and while my approach may not be especially conventional, it works for me and if I can help anyone else who works similarly to the way I do then YAY!
I'd also like to give a shout-out to Sheri Andrunyk. Sheri is the founder of I C Publishing (sponsor for this blog tour) and the I C Bookstore, entrepreneur expert, and author of Working From Home & Making It Work and Hearts Linked by Courage. She is extremely passionate about providing more choices and high level support to other writers, business professionals, wellness coaches, and spiritual mentors. 
Let's dive in!
How Do You Start Your Writing Projects?
My writing projects start me. When I feel the pull to write, I have to. Sometimes I end up scribbling on a old receipt from my purse or typing it into my phone. I'm often moved by something that's going on in my life or with those around me. For me, the words come in a rush. I am the conduit.  When I'm upset, confused or anxious about something, but cannot point to why, it's writing that brings clarity. After fifteen minutes of typing, the answers are there on my screen plain as day and I feel better. Relieved. This is how it works when I'm blogging.
With fiction, it's a similar process. I let the story come through me. I have a rough outline, but am very flexible. I once cut 20,000 words from a second draft of a novel because it just wasn't working and I didn't look back. The right words will always come and I won't settle for less.
If I have been assigned something to write, I mull it over in my mind for a while, not marrying myself to anything, just brainstorming. I sit down to write when I'm ready. Frequently, that ends up being near the last minute. I don't stress anymore about that. It always gets done and it's good.
How Do You Continue Your Writing Projects?
With blog posts it's not really a big deal. I write, edit and post within an hour so it's do-able. But, yes, I do have two children so when it comes to working on a novel or memoir, I write when I can. With my first novel, I wrote much of it while my three year old son played with his trucks right beside me. You do what you gotta do.
I also try to schedule blocks of time. Sometimes that time is spent just reading what I already have to see if I can pick up on a vibe to continue with or just make some adjustments here and there. Music moves and inspires me so I always tune in with the story and select a mood-matching playlist. This helps a lot if I'm not already feeling like I must write.
I have to believe in and value what I'm writing or else it's very difficult to stay motivated. For instance, I have about 40,000 words of a memoir that I wrote four years ago. I wrote it because it was helpful for me, but once it stopped being helpful, I stopped writing. It's saved on an old laptop and it's more than likely that it will stay there.
How Do You Finish Your Project?
With my novel, Without Fear of Falling, it was not easy to let go. I didn't have a lot of confidence as an author and while I loved the story, I knew that my style needed improvement. But I also was not willing to wait ten years to gain the writing chops required to make it (nearly) perfect. Four drafts and nine months of nearly constant work later, I let it go because holding onto it just didn't feel right. After I signed a contract with my publisher, it went through two more drafts. I knew it was done when my heart just wasn't in it to add or edit any more.
What's One Challenge or Additional Tip That Our Collective Communities Could Benefit From?
Keep writing. Write often. Everyday if possible. When I start to feel indifferent or uninspired, I go to Twitter and write a tweet. One of my favourites to do is #sixwordstory. Write a tiny story in just six words (eg: They kissed; only the rain saw. #sixwordstory). It's a muscle that has to be worked regularly. I think it's also a good exercise in reminding yourself that you can do this…that you are a writer.
Passing the Pen
And with that, I pass the pen to one of my favourite fellow writers, Jan Krause Greene. We have supported one another through the publishing and marketing process so I'm very interested to hear about her writing path! Check our her links and her post on July 9th!
Jan Krause Greene lives in a suburb of Boston. While raising five sons, she wrote HOMEFRONT, a popular newspaper column chronicling her life as mother, teacher and writer.
Self-described seeker and visionary, her poetry and fiction examine life's big questions from the perspective of characters both young and old, struggling to understand their place in the world. Jan is the author of the acclaimed novel, I Call Myself Earth Girl.
Check out Jan on her Twitter and at her Website!
Thanks for reading and following the IC Publishing Summer Blog Tour!
Danielle Boonstra is a mommy, intuitive, and storyteller who shares her journey with honesty and the intention to heal. She is the author of the recent spiritual romance novel, Without Fear of Falling, and the co-founder of MiracleShare.org, a social network for students and teachers of A Course in Miracles.