GIVEAWAY & Interview with Me by Jill McCullough
Originally Posted HERE.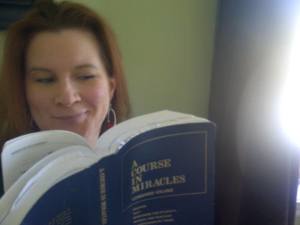 I am so excited to present this first installment in a new series of interviews with students and teachers of A Course in Miracles!  I'll be interviewing several people from various career fields and points of view, but they will all have something in common:  A Course in Miracles.  We'll be talking about how ACIM has impacted their lives, and how they stay grounded in miracle-minded thinking in the madness of daily life.  Be sure to sign up for email notifications so you don't miss an interview!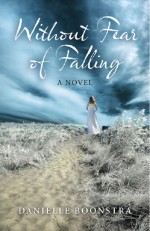 In this first interview of the series, I spoke with Danielle Scruton Boonstra: intuitive, co-founder of MiracleShare.org, and author of the beautiful book Without Fear of Falling (which will be released on April 26 by Soul Rocks Books).  I was blessed enough to read an advance copy, and was blown away by the beautiful story, the depth of the characters, and the enchanted setting.  You can learn more about the book itself here (be sure to check out the book's trailer; it is GORGEOUS!), as well as read my full book review on Shelfari and Goodreads. For our interview, I asked Danielle about her experiences with ACIM, what life is like as an author, and she gives us a sneak peak about her next project! Check it out:
How were you led to A Course in Miracles?
I was led perfectly. The setting and circumstances were gentle and helpful. I had heard of the Course first through Marianne Williamson's work and then through Gabrielle Bernstein. I started pulling quotes from it and posting them on twitter before I ever even cracked it open. It was a language I innately understood and wanted to speak myself. And then my friend Cindy bought me the book and we started attending a study group together. We still go to that group.
How has ACIM changed your life?
Um… that kinda leaves me speechless. I see everything so differently and yet am vaguely aware that I've barely opened the door. I blame others a lot less and am easier on myself. I have extended moments of peace and just breathe a little deeper. Practicing the Course's forgiveness has opened up a deep, dark can of worms. I have the "opportunity" (wink, wink) to look at a lot of buried grievances! As my wise friend Corinne says, "The only way through it is through it." Well, I'm going through it and reaching for the Holy Spirit as often as I can.
What advice would you give to someone just starting out with ACIM?
Be gentle. It's a lot. It will strike a chord so deep within you that even if you put it down for 20 years, you'll pick it back up again. It's a journey. Be patient with yourself, with teachers, with everyone. Your Inner Teacher will help you. Be willing; be gentle; be patient.
Do you have a favorite quote or Workbook lesson from the Course?
I love this prayer from Lesson 281 "I can be hurt by nothing but my thoughts."
Father, Your Son is perfect. When I think that I am hurt in any way, it is because I have forgotten who I am, and that I am as You created me. Your Thoughts can only bring me happiness. If ever I am sad or hurt or ill, I have forgotten what You think, and put my little meaningless ideas in place of where Your Thoughts belong, and where they are. I can be hurt by nothing but my thoughts. The Thoughts I think with You can only bless. The Thoughts I think with You alone are true.
What does your daily spiritual practice consist of?
I wake up every morning and give the day to the Holy Spirit and most often say this prayer from Chapter 2:
I am here only to be truly helpful.
I am here to represent Him Who sent me.
I do not have to worry about what to say or what to do, because He Who sent me will direct me.
I am content to be wherever He wishes, knowing He goes there with me.
I will be healed as I let Him teach me to heal.
And then I go through my day forgiving constantly. I mean this. Every situation that comes up that disturbs my peace is brought to the Holy Spirit. I have some inkling that this practice is a little superficial at this point and will deepen as I begin to trust the Holy Spirit more and more, but forgiving the world as I know it is the most important thing that I do.
I do meditate, but frankly it's infrequent and often brief!
I also get down on my hands and knees and pray a few times a week. When I feel like I'm holding on to tightly and need to surrender, I get down on the ground and say the Ho'oponopono prayer: I love you; I'm sorry; Please forgive me; Thank you.
Where did you get the inspiration for writing your book?
There is a beautiful town in Canada called Tobermory. It's tiny and has the coolest shipwrecks. It's the Diving Capital of Canada, I think. Anyway, we have a family cabin near there and it inspired me to write Without Fear of Falling. I knew I had to set a story there. And then I was also inspired by past life experiences. In the book, Ellie can see into the past lives of others as well as her own. This has been my experience also. If it's helpful for you then I believe you can see into your own past lives as well.
What is your writing process like? For example, do you stick to a specific writing schedule, or have any rituals or practices that help to get the creative juices flowing?
Perhaps I should have a schedule, but I don't. Instead, I have children. So, I write around them and I guess that's kind of a schedule. Really though, when I want to write and when I'm inspired there's nothing to stop me. Often I write whole sections in an email on my Blackberry and send it to myself. Music inspires me more than anything else. I actually have playlists for Ellie and Declan from the novel on Grooveshark. I'll do that for my next book too 
What authors have been most influential to you?
Marianne Williamson is one of the most talented modern spiritual writers I have ever read. As for fiction I have been influenced by Jane Austen, Sue Miller and Margaret Atwood. Danielle Laporte is also an influence. She inspired me to write the way I f-ing want to write. (No one was telling me I couldn't but myself, by the way.)
What did you learn from the process of creating this book?
That I can write a freakin' novel! Who knew? Not me. I couldn't even call myself a writer without feeling like a fake until like a year ago. I also learned I am a multi-tasker. While writing this novel I was raising two young children, starting a website for ACIM students and teachers, working part-time, blogging and going through one of the darkest times of my marriage. It's a bit astounding. But then I feel like the book happened through me and I had very little to do with it. I was willing and willingness is everything.
What do you hope readers will take away from your book?
My friends, Susan Dugan and Elise Ballard (both published authors), read an early draft of my novel and both cautioned me about teaching in a work of fiction so I scaled back a lot of the spiritual lessons and tried to keep it subtle and honest. I think Without Fear of Falling can be read as a love story, but I also think it can be read for something a little deeper. You'll get out of it what you're ready to get out of it. In the end, I hope the book is enjoyable 
What are your current projects/ offerings, and where can readers find more information about you? 
I am working on my next novel and 'you heard it here first' the title is tentatively "She Was So Pretty". It's about a woman who loses her mother meeting a man who has just lost his sister and their lessons in letting go.
To connect with me you can check out my site http://danielleboonstra.com. I'm also on Facebook, Twitter, Pinterest, Google +, herfuture.com and MiracleShare.org.
FROM JILL:
THANK YOU so much Danielle for your lovely words, and honestly sharing about your journey! Bigtime congratulations on the publication of your first book (I hope the first of many!).
Who is ready to win a book? The winner will be announced THIS FRIDAY, April 26, at 12:00 p.m. PST! If you haven't entered yet, there is still time, and you have TWO opportunities to enter. Here's how:
1. Go back to the original post containing the interview with the author of Without Fear of Falling, Danielle Boonstra. You can find the post HERE. Simply leave a comment, and you are entered! (Note: only one entry of this type per person, please.)
2. TWEET a link to the post on this blog containing Danielle's interview (you can use the following short URL: http://wp.me/p1mBkV-W9 ) and BE SURE TO INCLUDE MY TWITTER HANDLE IN THE BODY OF THE TWEET, @veganjilly , so I am certain to see it!
So that's it! Super simple, easy ways to double your chance of winning a free copy of this excellent book. As an avid reader and lover of books, I was deeply moved by this story. I loved it so much I knew I had to tell other people about it. Books like this don't come along that often! If you'd like to read more of my thoughts on Without Fear of Falling, please check out the book review I posted on Goodreads and Shelfari.
Stay tuned for the announcement of the winner this FRIDAY! WOOHOO!