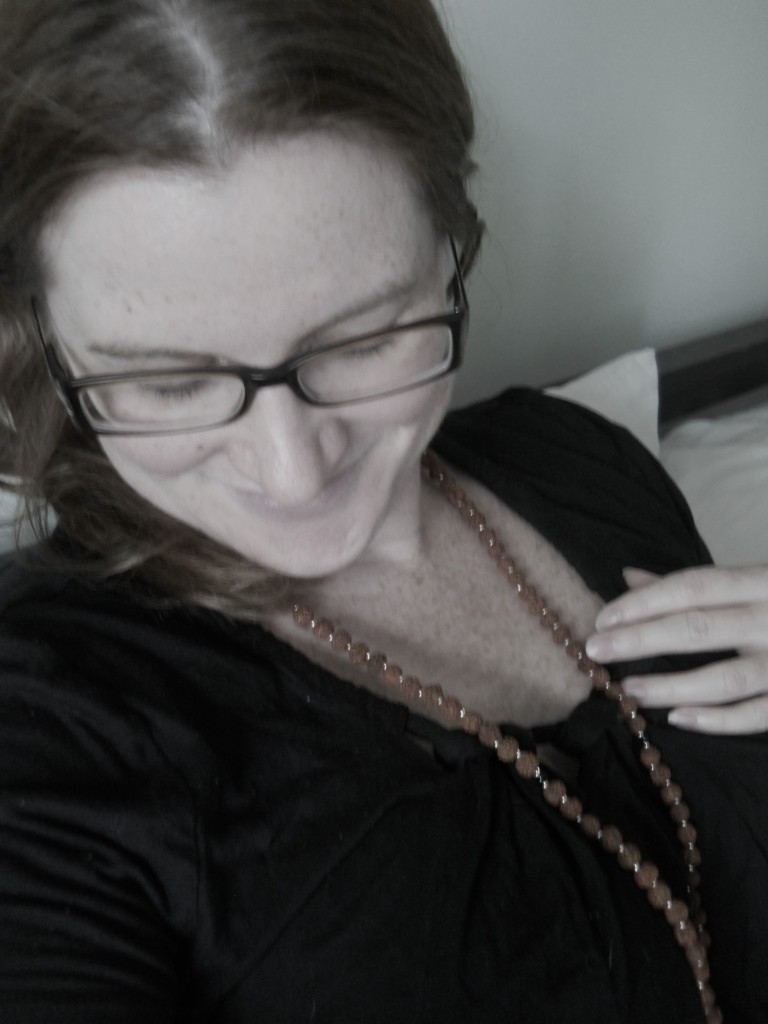 I've been training with a Master Psychic/Shaman for a few months now.  I love it.  I love being introduced to worlds and things I never knew existed.  There are other ways of looking at the world that don't include doubt and cynicism, but instead consist of mysticism, ritual and love.  There is nothing to fear here.  It's just using a different sense.  We go on feeling.  We trust our instincts.  We open ourselves up to truth and to compassion.
I am learning a lot about myself too.  There has always been an element of the "dark" about me…like I could slip into a deep sadness at any given moment.  I prefer moonlight to sunlight, rainy days to sunny and deep, mournful tunes to pop.  I can be very intense and serious (and, in turn, take myself way too seriously!).  All of this came through my teacher and all of it made sense.  What also came through was that this is not the whole picture.  I am meant for joy and abundance.  We all are.  And so this is my goal, my lesson in life.  I am to seek out ways to reveal the joy within.  It is time for me to face my fears.
"Ok," I said to my teacher, "How do I do that?".  "By connecting with your beloved," she said.  "Pray.  Meditate.  Be in the sunlight, and oh!" she said.  "Do you have mala?"
I didn't.  I did, however, know where I could get some.
I received Kiwi Jasper. The beads are seriously beautiful and I know I've got the perfect ones for me. Here's the description: This mala facilitates shamanic journeys and recalls dreams. It absorbs negative energy and gives protection, it will cleanse and align chakras and aura which in turn balance yin and yang.
Pretty damn near exactly what I was looking for….to balance the light and the dark…to be protected…to transmute the negative back into love. And remembering dreams would be sweet! So often I dream and forget.
So I'm trying it out. I pray with my mala, meditate with my mala, sleep with my mala. Slowly the light is coming on. During a few meditations I've had visions. I see myself honing my crafts and receiving loads of love and abundance. This makes me happy, but for a split second there is fear. And then I can't shake it. So this is it. This is what I'm afraid of? Am I seriously afraid of my desires coming to fruition? Yep.
I'm comfortable in hiding. There's a modicum of peace in keeping quiet. Who is served by it though? What I am learning is that when I am living in joy, I spread that. I move toward things that bring me more joy. I offer it to others in every way. There's nothing to fear. Indeed this is how the work of Love is done. When I am joyful, I am open to the love & the beauty that longs to be expressed through me. I hold it back no longer. I surrender to it. I allow.
I like this way of living. It's not about seeking something that is elusive; it's about revealing the joy that was there all along. And through prayer, meditation and connection with Spirit, I can live in that divine place all day long. I can be it. It is me.
Check out www.lovetinydevotions.com for more information on Mala Beads and to purchase your very own beautiful Mala.